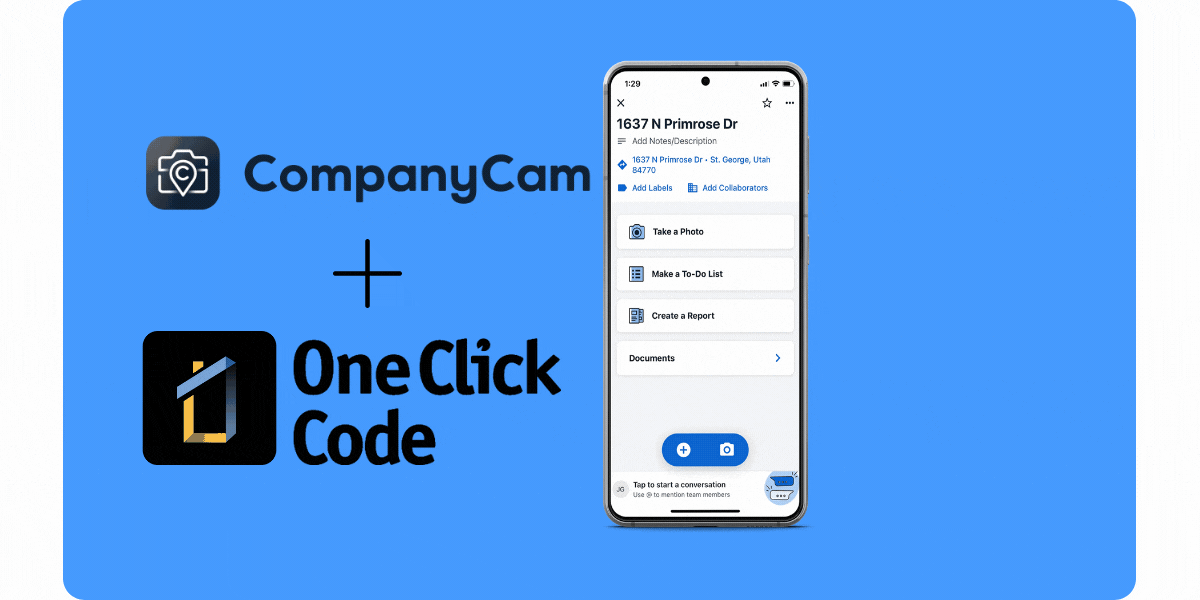 Roofing professionals can now access trusted data, imagery, and projects across the platforms they already use. OneClick Code is excited to announce a new integration with the photo solution app CompanyCam. This new integration will allow roofing professionals to save time and money on roofing projects across the United States.
Dedicated to increasing efficiency in the roofing industry, OneClick Code integrated with CompanyCam to streamline work for roofing professionals by syncing their project info across both platforms. This eliminates one more step in the process and makes it easier than ever to gather and document the relevant information on roofing jobs and share that data with customers and insurance adjusters.
"Our integration with CompanyCam adds value to our customers by bringing together the platforms that they already use. We founded OneClick Code to increase efficiency in the industry and this integration brings us one step closer to that goal," said Garrett Kurtt, Founder and CEO of OneClick Code.
OneClick's Code app is the source of truth for building code and jurisdictional data while CompanyCam is the source of truth for project imagery. Bringing together CompanyCam and OneClick Code allows professionals in the roofing industry to step into the 21st century.
"The roofing industry is behind in terms of automation. Many people still use manual systems to track down building code information or compile images for jobs. Companies like OneClick and CompanyCam are changing the industry by creating applications that save our users time and money on every job," said Kurtt.
About CompanyCam
Founded in 2015, CompanyCam has revolutionized how contractors work. Users can take unlimited photos, which are stamped by time and location, sent immediately to the cloud, and stored securely. This complete photo software enables contractors in every industry to manage, monitor, and share project progress from anywhere. With over 350 million photos in the cloud and counting, CompanyCam is dedicated to providing contractors with the easiest and most productive photo solution. For more information, visit CompanyCam.com.
About OneClick Data Inc.
OneClick Data Inc. is a trusted data partner dedicated to streamlining the code-sourcing process for all parties in the roofing industry while increasing efficiency and transparency for all stakeholders in construction and restoration. They have the only platform, OneClick Code, to have blazed the trail for data automation of jurisdictional authority for building codes, permit fees, taxes, and manufacturer specifications required for any address nationwide. OneClick Code has been serving customers in the contracting, insurance, and claim adjusting fields by providing instant access to trusted roofing codes with the click of a button. Offering unique reports that can be easily shared between all stakeholders in the roofing claims industry, OneClick Code adds value to all parties and empowers customers to save time and money on every claim. Welcome to restoration intelligence, automated. To learn more, please visit www.oneclickcode.com