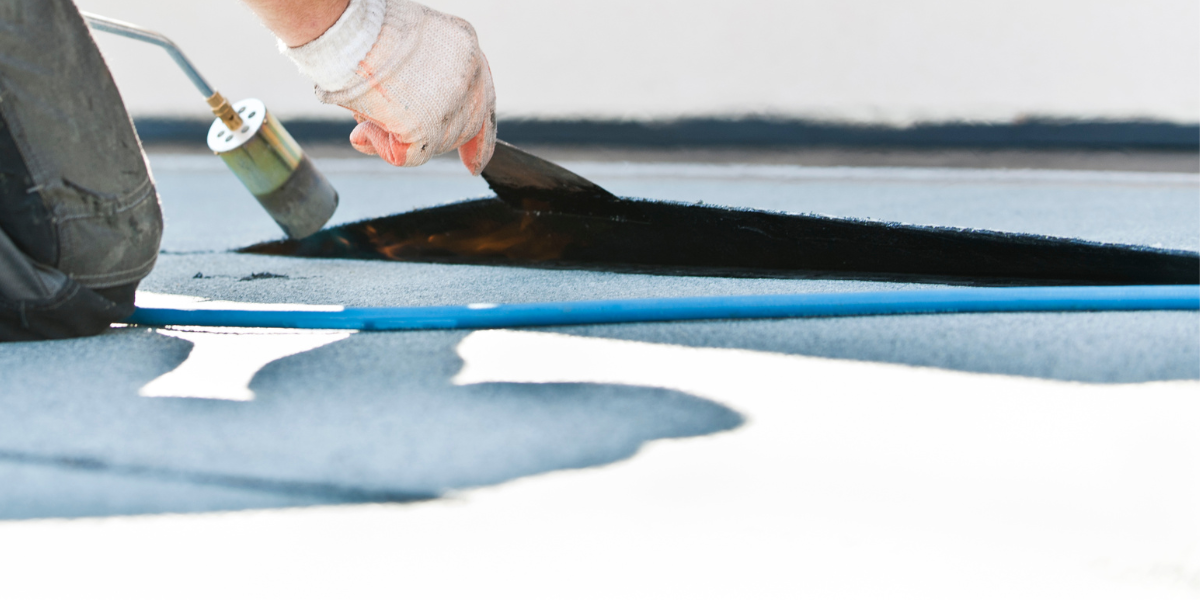 5 Things You Should Know about Flat Roof Building Codes
Summary
Flat roof building code varies by jurisdiction, and finding the correct jurisdiction for a specific property address can be tedious and time-consuming. This article examines the most important things to know about flat roof building codes.
When you're constructing a structure with a flat roof, understanding the flat roof building code requirements in the structure's jurisdiction is essential to completing the project on time and on budget. Flat roofs are most often used in commercial construction projects or in metropolitan areas and represent some of the most expensive roofing systems.
As the name suggests, a flat roof has a flat or low slope surface when compared to a steeply sloped roof which rises at an angle and is most frequently found on residential buildings. Flat roofs are popular due to their elegant appearance, as you can't see them and creates room for mechical equipment to be placed rather than the on the ground. it's interesting to note that flat roofs aren't actually completely flat. Instead, they have a low slope to prevent rainwater from ponding .
Flat roofs are often chosen over sloped ones because they offer more outdoor space for mechanical units such as air conditioners and heaters as well as the ductwork. The roofs even support a range of solar panel systems that can help offset energy consumption of during business hours. The clean lines of a flat roof give it a minimalist appearance which is well-suited to a more contemporary-looking building. Flat roofs have several advantages but also have unique design challenges. Let's look at the 5 most important things you should know about flat roof building code.
#1 Flat Roof Building Code Differs from Sloped Roof Building Code
Beyond the obvious aesthetic differences, flat roofs differ from steep sloped roofs in weather resistance, ease of installation, energy efficiency, and maintenance needs. Flat roofs are often used in windy areas because they are less vulnerable to uplift from high winds. However, flat roofs are less desirable in cold climates because they lack enough slope to shed snow effectively, which if left, can cause the roof to collapse due to the weight.
A flat roof design is more complex to install than a steep-sloped roof and requires substantially more materials and higher labor costs. Flat roof insulation delivers consistent high R-value throughout its coverage area and ensures uninterrupted insulation coverage. The colder the climate, the more r value, and the ticker the roof and more expensive. In contrast, sloped roofs don't require insulation as it relies on an attic cavity to hold the insulation. A steep roof's shape also makes it less expensive to install solar panels than on a flat roof because it doesn't require putting new pipes in the roof that could leak. Maintenance is the most demanding aspect of a flat roof. While the high slope of a steep roof allows for easy clearing of water, snow, and debris, flat roofs with a low slope are susceptible to standing water and leakage, requiring frequent inspections. Although flat roofs require more frequent maintenance and upkeep, these tasks are more easily performed on a flat roof than on a sloped roof. Flat roofs are also designed to last for twice as long as steep sloped roofs due to the expense of replacing them.
#2 Building Code Covers Critical Elements of Flat Roof Design
The purpose of building code is to ensure that the minimum design and construction standards are met and ensure that structures are safe and durable. Building codes lower the number of fatalities, expenses, and damage sustained during dangerous storms and other disasters.
Some of the most critical elements involved in flat roof building code include:
Sheathing. Also known as decking, sheathing refers to the solid base that roofing materials attach to and bridges the gaps between roof joists.

Insulation. R Values help keep the building cool in the warmer months and retain heat in the colder months

Drainage System. Drainage solutions for flat roofs include, positive drainage, interior drains, scuppers and gutters.
Checking these three line items for each flat roofing estimate ensures that roofing contractors don't miss out on thousands of dollars on claims. You can lessen the back and forth over the claim payments of a claim by having the documentation to support why you included these items in a roofing estimate.
#3 Flat Roof Building Code Is Subject to Address-Specific Jurisdiction
Contractors are often challenged by the time and resources it takes to find the right roofing codes, sales tax information, manufacturer specifications, permit fees, and jurisdictional authority to complete projects and claims. Manually calling local jurisdictions to get flat roof code information is one of the most tedious things roofers, contractors, and insurance adjusters have to contend with. Although some states have adopted the International Building Code, in most states, city or county governments adopt a variation of their own building codes.
#4 Flat Roof Building Code Applies to A Variety of Roofing Systems
Low-sloped flat roofs have various roofing systems options. One of the oldest flat roofing systems in use today is the built-up roof which is made from hot tar and gravel with waterproof ply sheets layered between applications of tar. However, its considered an inferior choice when compared to newer flat roofing systems, such as thermoplastic polyolefin "TPO" and granulated modified bitumen, because built-up flat roofs are heavier than other options and can negatively impact the structure of a building.
TPO, for example, has a single-ply roofing membrane that is less susceptible to ponding water and in some regions lasts longer than a built-up flat roof. TPO comes in white color and is considered to be a "cool roof" as it reflects the sun per the EPA's Energy Star requirements. Also, modified bitumen is reinforced with fiberglass to make it more durable in extreme weather conditions. Local building codes may regulate which flat-roof building system must be used, the types of materials that are allowed, and the installation process.
#5 Flat Roof Repair May Also Be Subject to Building Code
Building codes may contain precise guidelines and restrictions for the circumstances under which a roof recover or overlay is allowed and when replacement is necessary and only if no moisture is present in the layers of the existing roof. The addition of a new roof covering over an existing roof covering is not always permitted by law.
When roofing materials are removed from a building's roof in a high- or special-wind location, building codes may call for an inspection of the decking and roof-to-wall connections. The condition of the roof deck and framing must be documented during roof replacement or repair. On roofs with structural damage, the replacement roof covering cannot be put in place until the damaged elements are replaced. Likewise, the existing roof cover layer must be in good shape for the new covering to be supported.
If building code confusion is costing you time and money, OneClick Code has a robust database of commercial and residential building codes specific to the jurisdiction of your project.
---
About OneClick Code
OneClick Code is a trusted data partner, dedicated to streamlining the code-sourcing process for all parties in the roofing industry while also increasing efficiency and transparency for all stakeholders in construction and restoration. They have the only platform to have blazed the trail for data automation of jurisdictional authority for building codes, permit fees, taxes, and manufacturer specifications required for any address nationwide. OneClick Code has been serving customers in the contracting, insurance, and claim adjusting fields by providing instant access to trusted roofing codes, in the click of a button. Offering unique reports that can be easily shared between all stakeholders in the roofing claims industry, OneClick is adding value to all parties and empowering customers to save time and money on every claim. Welcome to restoration intelligence, automated. To learn more, visit our website www.oneclickcode.com.