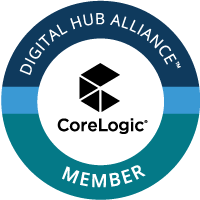 Evolution of automatic estimating platforms to bring restoration to the 21st century.
We are thrilled to announce our latest integration with Symbility Claims Connect through CoreLogic. Symbility Claims Connect through CoreLogic makes the claims process easier and more efficient than it's ever been.
As a CoreLogic Digital Alliance Hub member, OneClick looks forward to connecting and providing data for CoreLogic's insurance customer base to provide sought-after data in order to streamline the claims process.
OneClick Code will be available for direct use by CoreLogic's Claims Connect Users. The platform uses an open API framework, making it easy for Claims Connect users to connect and receive the invaluable OneClick Code data.
OneClick Code provides trusted and automated roofing codes, material taxes, manufacturer specifications, and other key data points for the claims estimation process that have otherwise been trapped in an antiquated and inefficient system. The seamless integration into the Claims Connect platform allows our customers to have superior efficiency gains and more accurate information on each claim directly in the platform that they are already using.
About OneClick
OneClick Code is a trusted data partner, dedicated to streamlining the code-sourcing process for all parties in the insurance and roofing industry while also increasing efficiency and transparency for all stakeholders. OneClick Code is the only platform to have blazed the trail for data automation of jurisdictional authority for building codes, permit fees, taxes, and manufacturer specifications required for any address nationwide. OneClick Code has been serving customers in the contracting, insurance, and claim adjusting fields by providing instant access to trusted roofing codes, in the click of a button. Offering unique reports that are trusted and accepted between stakeholders in the roofing claims industry. OneClick is adding value to all parties and empowering customers to save time and money on every claim. Welcome to restoration intelligence, automated. To learn more please visit www.oneclickcode.com